Trichostema lanatum
Woolly Blue Curls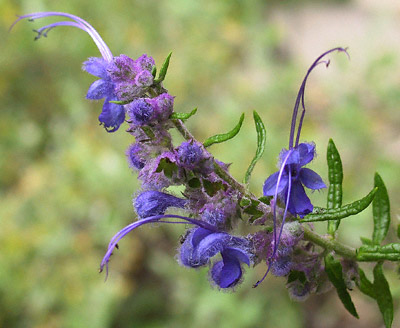 Whether or not you are already a lover of California native plants, you can't help but be enchanted by Woolly Blue Curls: If the fuzzy flowers and long, curved stamens don't do it for you, then the hummingbirds darting in and around them will. Unfortunately, this is not the easiest plant to grow...
Woolly Blue Curls are known as being very drought tolerant, and liking a lot of sun. That said, our happiest one (living 5 years) was in light shade, sitting in clay with occasional summer water (see photo 1 at right).
We have had the most success with the pink-and-purple 'Cuesta Ridge' selection (see photo 2 below), which is smaller in size (1–3' instead of the normal 3–5') and can take more water.
White selections of "blue" curls are also becoming available; we planted the selection called 'Susanna Bixby Bryant' (available from Rancho Santa Ana Botanic Garden) in fall 2003 and it's performing very well so far (see photo 3 below). All the Blue Curls can be pruned after flowers to encourage a bushier plant.
A related species is Trichostema parishii (Mountain Blue Curl, or Parish's Bluecurls). This plant comes from higher elevations (dry slopes, 2000–6000 ft, chaparral, yellow pine forest, and northern Los Angeles County). So far this has been a smaller plant, with pretty blue-purple flowers.
Another relative is the rose-pink flowered Trichostema purpusii from Mexico (purchased from Rancho Santa Ana Botanic Garden). Despite its apparent rarity, we've found it easy to grow, though it does like more water (every 10 days or so in clay soil) compared with the California natives. Seed is available from Seedhunt.