Leptodactylon californicum
Prickly Phlox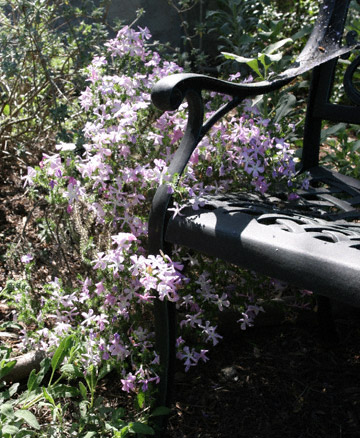 According to Lenz & Dourley* (one of our favorite reference books for California natives), the Prickly Phlox "is one of California's most beautiful small shrubs and worthy of a place in any native planting scheme." It will suddenly catch your eye in late winter with its amazing display of soft, bright rose through almost white flowers, and then continue to surprise you when those flowers persist for weeks. True to its name, its stems are covered with spiny narrow bright green leaves. (You'll notice from the cobwebs that we don't sit too close...)
A native to dry slopes and banks at low elevations, from San Luis Obispo south through the San Gabriel and Santa Ana mountains, the advice for this plant is that it needs excellent drainage. That said, our first one died after one year in a container with a fast-draining mix. Our second one was planted in clay and has thrived – perhaps because we've left it alone (in other words, summer-dry) after it got established. Here it is surrounded by native salvias.
The first one draped very nicely over the sides of its pot; the one you see here is supported by a metal hoop about 2' high, which it both spills over and grows upwards from.
* California Native Trees & Shrubs (For Garden & Environmental Use in Southern California) by Lens & Dourley is one of our favorite books as it's easy to read and very local to the Los Angeles area. The original is out of print, but it has been rereleased by Rancho Santa Ana Botanic Garden.