Ribes malvaceum var. viridifolium 'Ortega Ruby'
Ortega Ruby Currant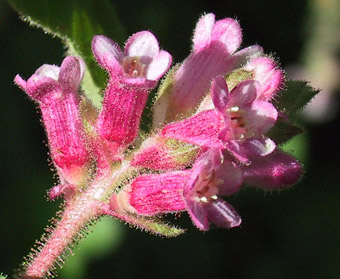 One of the earliest group of plants to bloom in our garden – as well as one of the prettiest – are our currants. We have four types: Ribes indecorum (White-Flowered Currant), Ribes aureum (Golden Currant), Ribes sanguineum (Red-Flowered Currant), and the showiest of all, Ribes malvaceum (Chaparral Currant), blooming in shades of white, pink, and red.
All of these currants share the same general characteristics: they are shrubs that can reach 4 to 8 feet in height, the flowers turn into colorful berries (enjoyed by wildlife) later in the year, and they drop their leaves in fall. All prefer filtered shade (although too much shade will discourage flowering) and respond nicely to additional water.
Rancho Santa Ana Botanic Garden has released several selections of Ribes malvaceum, including the 'Ortega Ruby' pictured here (bought at its introduction in 1999), 'Montara Rose' (darker flowers), 'Christy Ridge' (lighter flowers), and 'Dancing Tassels' (longer flowers). Ribes malvaceum also tends to form a denser shrub than other currants, with perhaps the most intricate leaves of the group (which various insects like to curl up around themselves for shelter).
The species Ribes also includes two other rather different types of plants: gooseberries (spiny plants with fuchsia-like flowers), and Evergreen Currant (see the profile for Ribes viburnifolium) which keeps its dark leathery leaves, has tiny flowers, and forms an excellent cross between a shrub and groundcover ideal for hillsides.