Lotus grandiflorus
Large-Flowered Lotus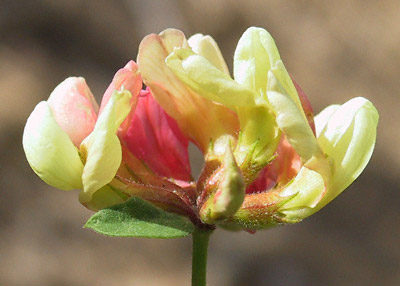 One of the more pleasant additions to our garden has been the Large-Flowered Lotus, Lotus grandiflorus. We added one to the garden in the fall of 2001, and were impressed by its namesake large cream-yellow flowers (an early bloom is shown below) which age towards red (see photo to the right). We then grew a number of them from seed*, and are using them to fill in spaces between larger shrubs which are still a few years away from reaching full size. The hummingbirds certainly don't mind; they are regular visitors to the early spring blooms.
This airy, sparsely-leaved shrub which is native to foothill woodlands and the chaparral grows from 8" to 24" high in an upright fountain. Blooming starts as early as February and should continue through May. The flowers are followed by interesting elongated seed pods that twist when ripe. Lotus grandiflorus likes sun, and is drought tolerant - although it takes supplemental water without complaint. Although considered a perennial, we treat it as an annual as it's short lived but easy from seed (if you can catch them in time!).
* Propagation: Lotus grandiflorus has been short lived for us, so we treat them as biennials (they'll usually expire after they bloom their hearts out). However, they are easy to grow from seed. When the seeds pods mature, they'll twist and release their contents, so try to collect the seed pods before that happens. The pods are mature when they feel dry and crispy, and look mostly brown (the pods should "snap" open when squeezed, spilling brown seed). However, don't despair if you arrive late to the party; untwist the spent pods carefully and you'll usually discover a few trapped seeds.